Blog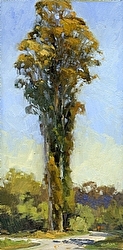 I returned a few days ago from wonderfully RAINY,CLOUDY,WINDY, California. No matter I am used to the northwest type weather. I ended up with about a dozen painting for the final show. Sales were slow but i sold three including my quick draw piece, and my favorite watercolor that was auctioned for nearly twice it's value. This oil of the three eucalyptus was the most fun to do. I was 20 minutes into it before I realized I still had my sunglasses on.
Comment on or Share this Article >>
I will be offering two Maritime painting workshops here in Port Townsend. Drawing and painting the maritime landscape July 10/17/24/31, and Drawing and Painting boats August 7/14/21. The classes will be held outdoors but we will meet at the Northwest Maritime Center. More to follow.....
Comment on or Share this Article >>