Show Blog Widgets
Will it work?
Just like any other artist I get excited when I come across something that hits me in some certain odd way. Recently while walking my dogs on the beach I came across a 78' long tree on the beach. It sat there like some ancient ship, or old pier. The root ball sticking defiantly into the horizon. I was so struck by it, especially with the soft grey light that I wanted to try to make a painting of it. I initially did a quick sketch and the next day did an oil sketch.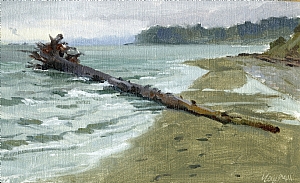 Try as I might I just could not get it to work.... the initial feeling I had would not fit into the constraints of a frame. My good friend Gregg Caudell is my go to guy for things I am unsure of. He spent some time with the great artist Bill Reese ( who passed away just last year ). Gregg reminded me of what Bill might say... something like"Why in the hell did you paint that thing".
There have been many times I see a composition in passing but when I return with paints in tow... I cannot make it work as a picture. That is the struggle we all face.. picking and choosing subjects matter that we can turn into our best work. What may work as inspiration for poetry, or music, or a short story doesn't necessarily make it as a painting.
Last year while at the Sonoma Plein Air Festival I tried three separate times to paint a townscape. I know it will make a great painting... I just have to persevere. Maybe this year I'll get it down.