Snow........ it is the earliest snow we've had here in the northwest since I can remember. I am not accustomed to painting in the snow but today gives me a good opportunity to do a couple of paintings.
After driving around a bit, looking for a place where I could paint from my car I decided to just go across the street to Mystery Bay State Park. In between wipers moving from time to time, and getting more heat in the car I produced this little 6 x 8 panel. What I really love about the grey weather we have here is limiting my palette. In this case I used four colors:
Viridian, Alizarine, Titanium White, and Raw Sienna ( for the hint of warmth in some of the bushes.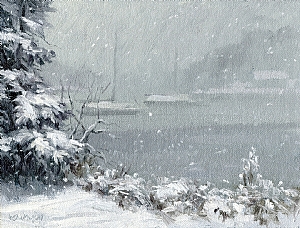 Of course a few times the view was completely obliterated with heavy wind driven snow, and the original reflective quality of the water disappeared immediately. The boats moved with the wind. I really like the subtlety of the middle and background. If the sun was out I'd need to add say a Cobalt blue to may palette.
The other shot is down my driveway from my studio. With this picture I added Ultramarine and Cad Red Light, as well as Thalo Green...