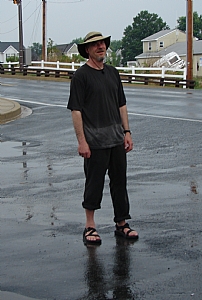 I was a bit concerned about all I heard about the heat from last years event. I wondered how the high heat and humidity would affect my watercolors. The day I arrived artists Thomas Kitts and Hai-Ou Hou drove me around to look for painting spots. We were caught in a downpour with no umbrellas ..... warm and wet! We had a few days before the festival began and had a few opportunities to paint. I sold a couple of 8x10's right off the bat which really was a nice way to start things off.
The festival is so well run. I met a bunch of artists I am familiar with and had the chance to paint with a few of them.
Ned Mueller ( who won best of show last year ) and my Oregonian friend Eric Bowman gave me a hard time doing sissy watercolors. We were painting inside the Cutts and Case boatyard where I did this small 10x7 "Cutts Patent Method".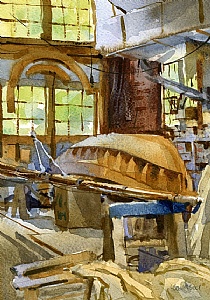 The first day of painting I ended up doing three keepers for the show which made me sigh and relax a bit. The heat index was just starting to creep up. The first few days were relatively mild, however by Friday the temps were well over 100 degrees with high humidity. I was still, surprising myself, able to keep painting as long as I had some shade. The sunrises and sunsets were wonderful with all the humidity diffusing the light. I ran out early to catch a sunrise at the Maritime Museum in St. Michael's. Greg Larock was already well underway with his piece. I titled this 8x10 "Good Morning Mister Jim".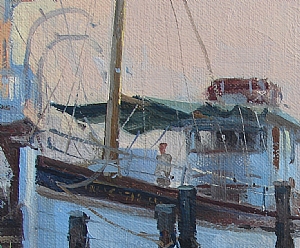 This was one event I did not do a "pure" landscape. There was so many other subjects to consider... I ended up doing, without planning to, mostly boats. There were a lot of great street scenes as well. Easton protocol requires each artists to paint within city limits for two days. St. Michael's is full of great townscape subject matter as well. I finished this "Evening" painting in the morning! I got up well before sunrise and did a backwards nocturne. What was nice about working this way is that I could tighten up as it got lighter. This may be my favorite piece of the week, "Tucked Away" 14x10.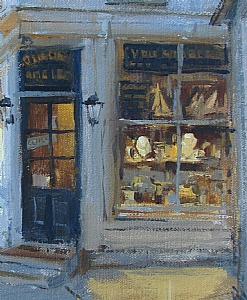 I had heard from other watercolorists that oils tended, in their opinion, to sell better. With that in mind I decided to do approximately 50/50 oils and watercolors. I ended up selling seven paintings........ six were oils! I will continue to push the watercolors however. Here are two of my favorite watercolors of the week.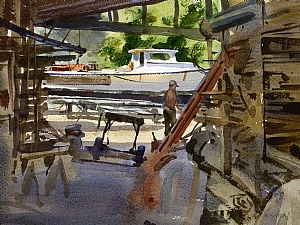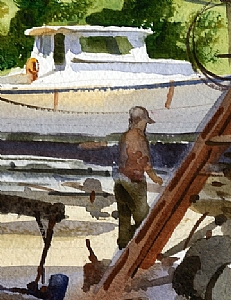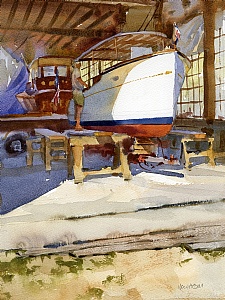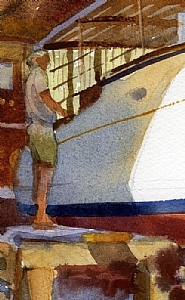 In all I had a wonderful time. One of the highlights for me was the quickdraw. I always love the challenge of these. I decided to push myself and do a 12 x 16 oil. I rarely work that big on site... and I had two hours to paint a Farmers Market scene. Maybe the heat was getting to me. I had a ton of fun, even though the artists around me and I did NOT hear the horn to begin. I slashed and sketched away, framed it and put it up on my easel and it was sold within about 30 seconds. I only have this in progress shot. This experience encourages me to do more pieces this size. The turnover at easton is high each year. A fair percentage of artists do not repeat the following year so I won't be surprised if i don't make it in,,, but I will definitely apply!